It's almost Halloween, a perfect time for a double feature from H.G. Lewis and his cavalcade of tasteless, blood soaked cinematic madness from the fringes.
First up is 1965's
Color Me Blood Red
, a story of an unhinged artist who finds creative inspiration in spilled hemoglobin. Followed by 1972's
The Gore Gore Girls
, a "murder mystery" centered around a bucket of blood strip club and the freak show regulars, on stage and off. Both push the limits of on screen bloodshed with very
limited
budgets and sensibilities far removed from politically correct notions.
H.G. Lewis was a true pioneer of do it yourself, guerrilla film making. Whether in genres of soft core sex comedy or horror, his exploitation movies often turned a modest profit.
The Gore Gore Girls
was Lewis's last film for many years and easily one of his sleaziest features, also utilizing set design that would be at home in any number of porno films of the era. It was also one of the few films he submitted to MPAA, were it received the X rating.
the trailer




the feature


plus...



the trailer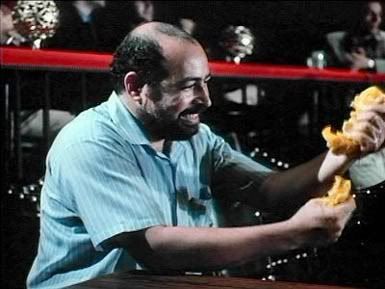 the feature