From Los Angeles, The Plugz were among the first Mexican/American punk bands. Fronted by Tito Lariva, they formed in the late 1970s and brought together traditional Mexican music with the sounds and attitude of punk rock. Their first single, "Mindless Contentment" featured backing vocals by Exene from X. Several of their songs were used in the 1984 film Repo Man. Most notable to myself is the song "Reel Ten" which plays at the film's conclusion. A sonic tribute to the esteemed work of Ennio Morricone, this track brings spaghetti western sounds to the forefront. Another cinematic use of Plugz music came about in 1985 when "Electrify Me" was used in the XXX feature New Wave Hookers, also notable for starring a then underage Traci Lords.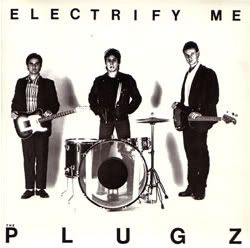 In early 1984 The Plugz hooked up with Bob Dylan and performed for a short time as his backing band, including a March 1984 appearance on Late Night with David Letterman where they performed three songs. Later in 1984 Tito Larriva, Tony Marsico, and Chalo Quintana of The Plugz welcomed guitarist Steven Hufsteter into their fold. They then changed their name to The Cruzados and the music took on a more reflective and blues influenced sound. Hufsteter was replaced by Marshall Rohner after one album and The Cruzados continued until disbanding in 1988. Around this time a slightly altered line-up performed in the knuckle-sploitation 1989 film Roadhouse.
The members all continued in music and Larriva went on to form the band Tito & Tarantula in 1992. Horror film fans should note that it is Tito & Tarantula who are the house band at the Titty Twister cantina in Robert Rodriguez's 1996 film From Dusk Till Dawn.
Mindless Contentment


Achin' / La Bamba


Reel Ten (1984)


El Clavo y La Cruz


The Plugz "Elizabeth" - New Wave Theater


The Plugz "In The Wait" - New Wave Theater


backing Bob Dylan - Jokerman
1984 Late Night with David Letterman