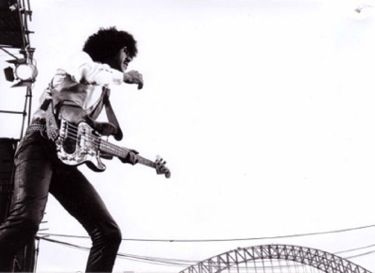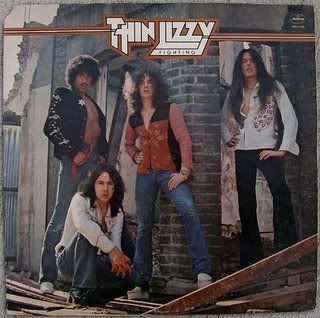 In commemoration of a rapidly approaching St. Patrick's Day, I'm posting a couple of blogs highlighting two of my favorite musical acts with ties to Ireland – Thin Lizzy and The Pogues.
Formed in Dublin, Ireland in late 1969, Thin Lizzy are a truly unique creature in the rock world. Fronted by Phil Lynott, the son of an Afro-Brazilian father and an Irish mother, the band/crew drew members from both sides of the Irish border. They found a certain level of success quickly and by the summer of 1970 had put out a single, "The Farmer"/"I Need You" on EMI. By the end of that year they had secured a deal with Decca Records to record their debut, self titled album released in early 1971.
Shades of a Blue Orphanage
, their second record came out in 1972 and was not well received. It did provide subtle hints of the more rocking direction the band's sound would soon be heading. In late 1972, against the bands wishes, their version of the traditional Irish ballad "Whiskey in the Jar" was released as a single. In spite of the band being upset that this did not showcase their current sound, this release proved to be popular and went to the top of the Irish charts as well as getting to No.6 in the UK during February 1973. As the seventies went on Thin Lizzy proved to be a stalwart of classic rock stations, with their records often providing songs that populate the airwaves to this day.
The sound of Thin Lizzy pulled influences from sources as varied as traditional Irish music and hard rock. An early proponent of two lead guitar harmony, this would go on to influence heavy metal bands such as Iron Maiden and Def Leppard. Thin Lizzy toured with an incredible assortment of acts through the years. The list includes: Slade, Suzi Quatro, Bob Seger, Bachman-Turner Overdrive, Status Quo, Aerosmith, Rush, REO Speedwagon and Rainbow - to name just a few.
The footage below comes from 1978, as Thin Lizzy performs in Australia outside the Sydney Opera House.
Jailbreak


Are You Ready?


Cowboy Song & Boys Are Back In Town


Waiting For An Alibi


Bad Reputation