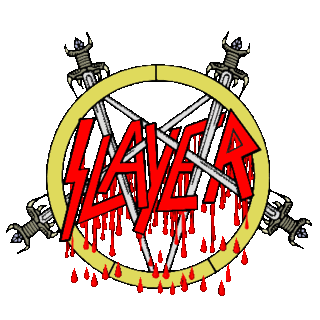 A VHS bootleg of this show has been around for years. It's not quite as consistently clear as the Reign In Blood era footage from earlier, but this is a complete and entire set from the World Sacrifice tour.
This show is from the 31st of August 1988 and is in New York City. A few days earlier, on the 26th of August, I had been in attendance at their performance at the Aragon Ballroom in Chicago.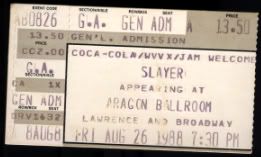 Went with a couple friends and we got there while Trouble was playing. Always dug Trouble with their Sabbathy heavy grooves. Even with their very pro-God, positive lyrics in the face of a Slayer crowd; a huge number of folks were down with 'em. Solid and heavy set. Danzig was next. He was a lil wobbly at first, but sounded great as his set progressed. Cool to hear a few Misfits tunes too; London Dungeon and 1 or 2 others I think. Everyone was there to see Slayer, and looking back now it may have been Slayer at near peak performance perfection. Bringing some more down tempo parts and songs helped diversify their sound & power. The South of Heaven release takes a few knocks from some Slayer die-hards for not being as fast from start to finish as Reign In Blood, but I'm a huge fan of the record and it's addition of slower material. This 1988 Aragon show stands out as my favorite of all the many Slayer shows I've been witness to and as such I had to bookend the earlier Slayer blog with this additional, blistering live footage from that same tour in 1988. The crowd in NY literally starts ripping up cushions and chairs as more mayhem descends towards the end of the show, but Slayer rips with a killer set.
Many speed metal thanks to manuker for getting this slice of sonic history up on YouTube.
Hope ya dig it as much as I do!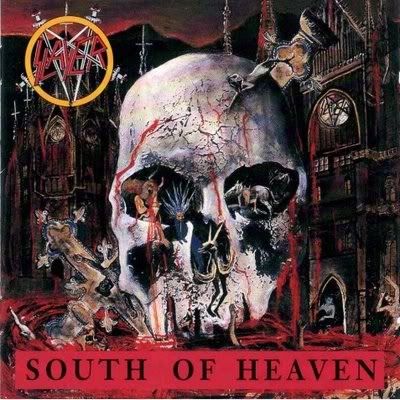 South Of Heaven




Raining Blood




Silent Scream




At Dawn They Sleep




Read Between the Lies




Fight till Death




Mandatory Suicide




Kill Again




Behind the Crooked Cross




Postmortem




Reborn




Die by the Sword




Altar of Sacrifice




Jesus Saves




Chemical Warfare




Ghosts of War




Angel of Death