In the past I've posted a few of these clips as comments on my own or other folks MySpace pages, but presented here now is as a complete assemblage of this one show as possible. This footage comes from exactly the same time I first became aware of and a huge fan of Slayer. So while I was not in attendance at this performance, it does bring back a boat load of memories. Saw them in Chicago several times during this period at the Aragon Ballroom (aka Brawlroom), which is somewhat similar in layout to the Ritz. This seems a pretty accurate representation of my now getting hazy memories of those first few Slayer shows. Really gnarly heaviness and sonic power coupled with insane speed. Still actually own the t-shirt shown below. Mine no longer looks similar to this photo. It's a washed out gray color now, with a few holes and has shrunk far below it's original XL size.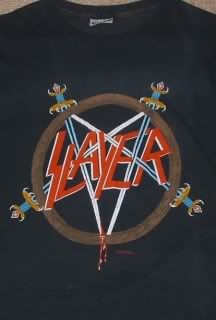 The visual quality of the clips below are ok, but the sound quality is uniquely clear and good. Really good. Well, check 'em out below and lemme know what ya think.
All clips were posted on YouTube by evilaggression and I extend hearty thanks for their existence.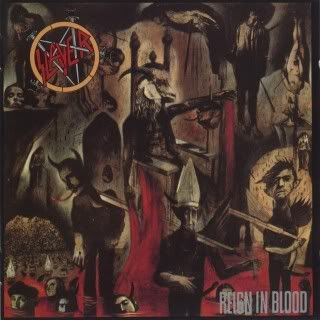 Raining Blood / Angel of Death




Hell Awaits




Necrophiliac




Postmortem / Epidemic




Praise of Death




Chemical Warfare




Altar of Sacrifice/Jesus Saves