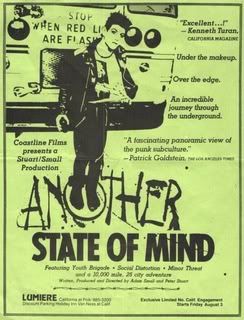 Re-blogging this from three years ago, now updated with this one-part version...

Another State of Mind (1984)
is one of my favorite documentaries and I have Night Flight to thank for my first viewing. The film's directors Adam Small and Peter Stuart followed LA punk bands Youth Brigade and Social Distortion as they ventured out on a Summer of 1982 tour with stops in Canada and across the United States using a converted school bus as transportation. The film unfolds as the shows progress, some unavoidable problems occur, and cause increasing tensions to mount among the bands and crew.
The film is well constructed; including numerous interviews with fans along the way, as well as articulate punk rock stalwarts including Keith Morris of the Circle Jerks and Ian MacKaye of Minor Threat.
I did get to see Social Distortion once back in 1988 when they played the Exit in Chicago in support of their Prison Bound record, although this film this was lensed a little before I started really getting into the music and going to shows,
Another State of Mind (1984)
presents an engrossing "fly on the wall" view of an early, do-it-yourself punk rock tour.